CommsChoice expands key network infrastructure in APAC, USA and Europe

Sydney AU, 10 March 2020 CommsChoice Group Limited (ASX: CCG) announced today that it has significantly expanded its Direct Routing capability for Microsoft Teams Phone System, Global PBX and SIP trunk services.
CommsChoice CTO, Tristan Plummer, said that the company has expanded its Microsoft compatible Session Border Controller (SBC) network in USA: San Jose & Virginia, Europe: London & Frankfurt, and APAC: Sydney & Singapore.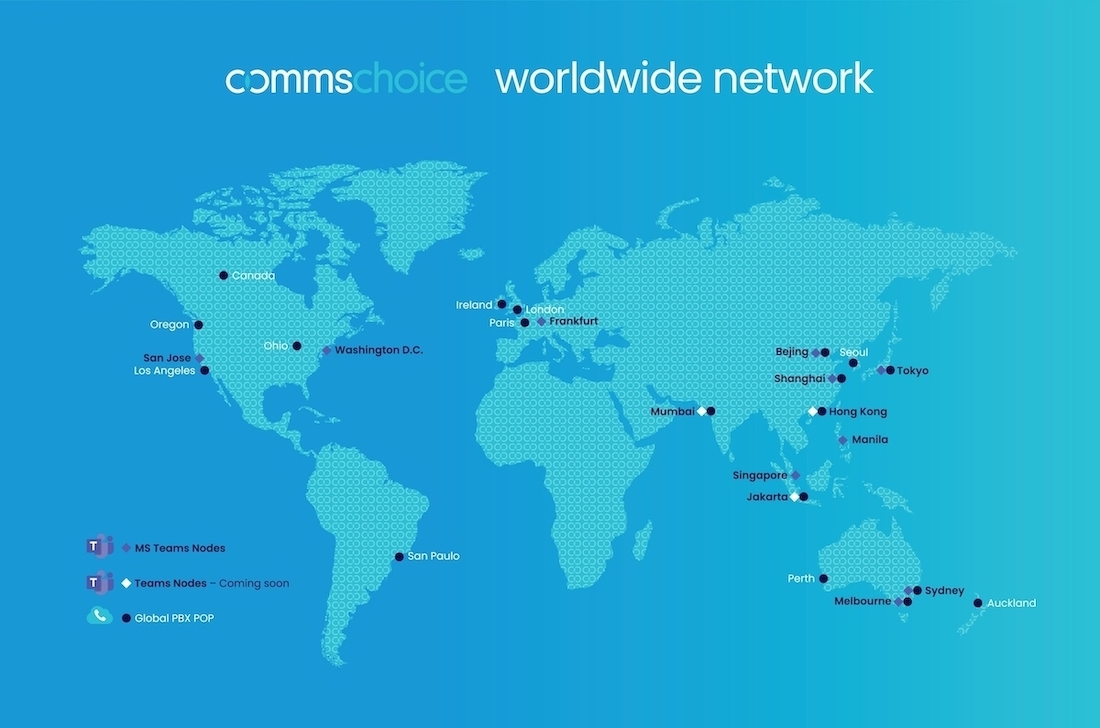 We are very excited about our expansion into the USA and Europe, and with the continued growth in the uptake of these services in the Asia Pacific region. The SBC's have been strategically installed alongside Microsoft media farms worldwide to minimise latency and enable quality global voice solutions for our Microsoft partners and customers using the MS Teams International Calling Phone System.
The CommsChoice deployment of Microsoft Teams compatible SBC's will greatly assist companies to implement unified communication (UC) solutions more quickly, easily and securely, providing a UC-centric platform that allows enterprises to quickly, safely and efficiently transition to IP-based communications without exposing their network to security or quality issues. This also further enhances Commschoices International MS Teams Contact Centre capabilities.
Mr Plummer said, "Our approach, combined with our extensive array of carrier partners, provides a unique solution. We offer local PSTN dialing and direct in-dial numbers in 79 countries as well as number portability in 53 countries. This allows us to deliver services on a truly international scale."
Workplace communication has fundamentally changed as collaboration platforms like Microsoft Teams have worked their way into the enterprise. The growth of unified communications for remote work and work from home will continue to increase, further expediting the desk phone demise.
Microsoft Teams Phone Systems solves several voice delivery issues and CommsChoice is also working with contact centre partners around the globe to educate and integrate this SBC network to enable them to leverage Teams as a delivery agent for their voice applications.
About CommsChoice Group:
CommsChoice Group provides cloud communications for business. The company services mid-tier corporate customers in Australia, Asia and internationally using its cloud based global business phone platform and MS Teams Calling/Direct routing integration combined with innovative SD-WAN technology and fibre and NBN access products. For more commschoice.com or follow the company on LinkedIn @CommsChoiceGroup.