Leading recycling company, Replas' former providers MPLS network was experiencing a lot of downtime and poor quality of service, affecting its business.
With its new
SD-WAN
, Replas is enjoying 100% uptime, unparalleled network visibility and significantly enhanced network management capacity.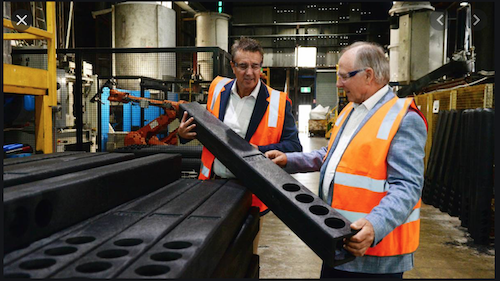 Leading Australian recycled plastic manufacturer, Replas, with three distributed sites across Victoria, was using a carrier Multiprotocol Label Switching (MPLS) with a dedicated IP managed solution, including radius connections to provide phone and data services to multiple sites in Victoria.
The MPLS service was plagued with problems, and so Replas commissioned Aspire Technology Group to explore what options were available to see if they could improve network speed, latency and overall performance.
Phelps said, "I've worked with CommsChoice in the past and they have proven track record in this space providing SD-WAN with Microsoft Teams based calling and VOIP."
Glenn Phelps - Aspire
PROJECT SCOPE
Glenn Phelps, Aspire Technology Group said that Replas was experiencing a lot of downtime and poor quality of service was impacting productivity and network performance. "PABX failures were really affecting Replas' staff's ability to perform their job and the company's expectations on service delivery was very low.
Fixes and changes would take forever, and most would require a tech to show up onsite to make modifications. It was really impacting their business and their ability to deliver the excellent customer service experience that Replas pride themselves on."
We needed a solution that would give us greater control and visibility of our network while improving bandwidth and redundancy.

SOLUTION
"The CommsChoice team worked with us to scope out our requirements and gave us several options in addition to our initial specifications, that saved us money and delivered an optimal result," said Phelps. We liked the look of the Commschoice SD-WAN as it gave us great visibility of what was happening on our network.
"Once we had a scope in place, CommsChoice was able to develop a solution that surprised us with its simplicity. The onsite SD-WAN Edge devices were deployed to us pre- configured to our specification and then we worked with the CommsChoice team to fine tune the solution post deployment.
The process was so smooth compared with our previous MPLS experience; we can't praise the CommsChoice team highly enough."