The business benefits of a Cloud PBX Phone System

Firstly, what is a PBX?
PBX stands for Private Branch Exchange and it is a legacy acronym that remains in use today, probably because so many companies associate the letters PBX with phone systems, traditional or otherwise.
Previously most business phone systems had the primary Phone System hardware based On Premises needing specialist onsite support, any time a move, addition or change was needed. Each site would need its own PBX Phone System connected to ISDN or PSTN Phone Lines.
Now most PBX Phone Systems are Virtual PBXs or Cloud PBX Phone Systems. Instead of running over ISDN & PSTN, Cloud PBXs are IP or VoIP Phone Systems, domiciled in the Cloud that can be remotely managed, saving on ongoing support costs and significant upfront hardware investment.
Known as Cloud PBX Phone Systems (or Hosted PBX or virtual PBX), these VoIP phone systems feature shared capacity and remote capabilities with the effect of lowering the overall costs to deploy and support. Cloud Phone Plans can now include the handset in the monthly phone rental, significantly lowering deployment costs.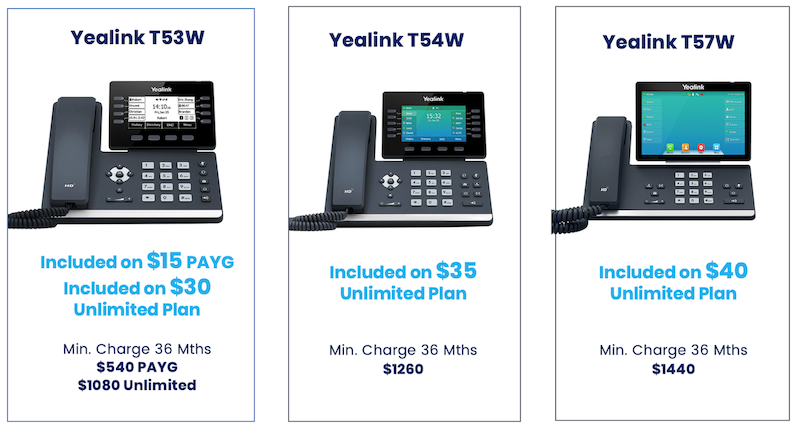 What are the benefits of a Cloud PBX Phone System
A Cloud-based PBX suits companies with 5-500 employees. Aside from typically being significantly cheaper to purchase and operate, a Cloud Business Phone System come's with many business benefits. Here are just a few:
Low (or no) hardware and ongoing service costs
With a Cloud Hosted PBX phone system, your business will have the flexibility to provide VoIP Phone Hardware on the desk, IP softphones on PCS, tablets, Mobiles and laptop s which allow employees use their mobile phones in the field or working from home. This means that unlike the old On Prem phone system, you don't need a physical phone on every desk, which will dramatically lower your upfront costs, not to mention ongoing maintenance and replacement costs. With Commschoice you can get included handsets (no extra charge) on 36 month agreements, or handset rental options to keep deployment costs low.
Advanced Calling Features
A Cloud-based phone system provides remote access to a number of advanced features such as:
Auto attendant
Hunt groups
Call Centre
Call queuing
Conference rooms for voice and video
Voice messaging.
Call recording and reporting (add on feature)
Contact Centre (add on feature)
Cloud PBX essentially gives you a full unified communication suite, which includes seamless connections between voicemail, email, active directory integration, presence and more.
A VoIP phone system can allow your company to take advantage of a "find me follow me" service which means you can advertise a single number, which will ring in consecutive order until the call is answered or ring simultaneously on a predefined number of phones.
Excellent for remote workers
If your workforce is geographically diverse, they can come together with a single Cloud Phone System. Customers won't know if staff are at home or in the office. This means your team members can work from anywhere in Australia or around the globe, providing flexibility to travel, work remotely or work from home. If you have key employees that move overseas, with a Cloud-based PBX they can still work for you with an IP phone running over the public internet like a standard NBN connection. No one will notice the change in their location. All they need to run the Cloud Business Phone handset is power and a reliable internet connection.
Ensure Business Continuity
When things go awry, some businesses can deal with being offline for a little while. But what if your business is characterised by high call volumes and mission critical tasks such as the finance or health industries? If you have an onsite PBX, any interruption could bring the business to a complete stop. A Cloud phone system will provide redundancy, reliability and uptime guarantees that simply can't be matched with an onsite phone system for anywhere near the same price.
Unlimited scalability
As your business changes, your Cloud Phone System can change and grow with you. With the ability to scale up and down in minutes, a cloud-based phone system provides the ability to add or remove PBX users as required and what's more, you'll only be charged only for what you use. No paying for lines that are sitting idle, and no expensive phones sitting on empty desks, as may be the case with an on-site PBX.
Customer satisfaction
With a Cloud phone system, you can have a phone number from pretty much any country in the world. You can move your Cloud PBX to another location, city or even country just by connecting the system to a new internet connection at your new location. This means that for each geographic area you service, you can have a local number that will ring a call centre in another state, or even country, based on cost and time zone considerations. The customer gets the satisfaction of knowing that the business is local, and the company is able to deliver outstanding customer service.
It's time to replace your legacy Business Phone System - Find out what it takes to migrate to a cloud-hosted PBX solution and which cloud phone system would be the right choice for your business. Make sure you choose a reliable Cloud PBX provider in Commchoice.
Contact the Australian-based Commschoice team today on 1300 42 66 67 or click the button below for more information.